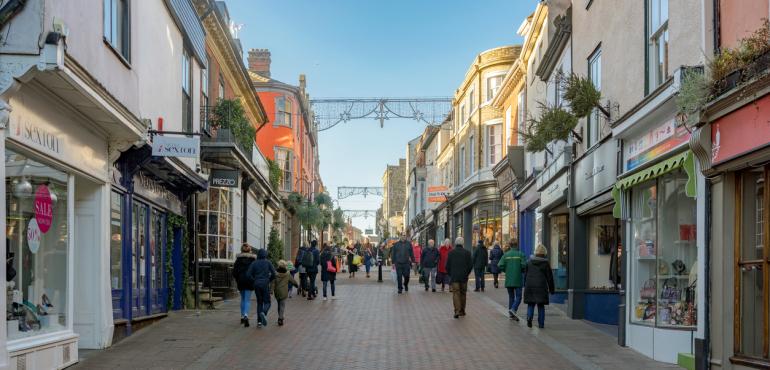 The commercial property market has proved to be remarkably resilient in the last few years, despite considerable political and economic upheaval. The big question is, in the lead up to the next General Election, what does 2020 have in store?
If you're considering buying or selling a commercial property in the near future, read this round-up of predictions on what the future holds.
A brief overview of the recent past
In order to predict what might happen to the commercial property sector in 2020, it's important to first identify the key trends in 2018 and 2019.
After Brexit was announced, the media abounded with reports that property prices would fall across all sectors. This never really happened. In fact, confidence in commercial property remained high, though some investors seemed to be adopting a more cautious approach.
Overseas sales were up, with plenty of investment from Asia. In particular, interest in industrial properties rose significantly. We also saw more engagement with commercial premises in the North, as companies started to cotton onto the lower prices and potential for growth there.
Is 2020 looking good?
Of course, the property market will be impacted by the results of December's General Election. If Boris Johnson manages to 'get Brexit done', then this is likely to have a major effect. However, a hung parliament may cause Brexit to stall once more, or another party may put forward a fresh referendum to determine whether Brexit will even happen at all.
Some predictions can be made in spite of this. If we go by what's happened in the last couple of years, it seems unlikely that commercial property sales will suddenly drop off. Indeed, the market's recent resilience has boosted investor confidence.
ONS data (1) shows that the number of VAT or PAYE businesses in the UK grew in 2019, as did the number of companies and public corporations. With many of these investing in commercial premises, it demonstrates clearly that business is good in the UK, and this trend is likely to continue.
What's the deal with Brexit really?
An extensive market survey showed that many investors feel that the Brexit impasse is having a detrimental effect on commercial property take-up. There has been decline in some sectors towards the end of 2019; notably retail, which has suffered much of the brunt of investor cautiousness. Of course, this is also due to other factors, such as increased spending online, rather than on the high street.
Office take-up was also slightly affected (but not to the same extent), and the industrial sector, in defiance of Brexit, continues to flourish.
The exact impact of Brexit will depend largely on what sort of deal is on the table. A no-deal Brexit, for example, is likely to produce much more noticeable ripples in the market, whereas if a good deal is in place, this isn't so likely.

What will happen to the retail sector?
It's true that take-up of retail properties has fallen in the last few years, but experts predict that this situation could change. The average household spends around £2,500 per month (2), which means that there's still plenty of interest in retail. Savvy businesses are starting to appreciate that, in order to survive on the high street, they need to offer something that rivals online shopping.
Step forward experiential shopping, combined with greater use of technology. This new, interactive form of shopping has already proved successful with several major brands, and may be what's needed to revive interest in the high street stores. This, in turn, will result in boosted interest in the commercial retail property market.
Indeed, some savvy businesses are already making the most of the reduced retail premises prices, in anticipation that they'll rise in the future. Some are also exploring the option of sale and lease-back (SLB), which offers greater financial freedom, and greater opportunity to develop their business.
Office space – is co-working a threat?
Co-working is becoming more popular, but this hasn't had that much impact on the office sector, with 2019 statistics indicating only a slight decline in interest. RCIS predicts a rise in prime office rents, with close to a third of respondents believing that the sector will grow in the near future (3).
There were less enquiries for office space in the latter months of 2019, but given the political uncertainty, this isn't surprising. It's anticipated that once the Brexit deadlock is broken, the market will pick up once more.
Continued boom for the industrial sector?
Demand for industrial space increased so substantially in recent years that supply just couldn't keep up. Experts predict that this demand will slow over 2020, which given the situation, is perhaps for the best – as exponential growth is never sustainable.
It's also difficult to predict how Brexit will impact industrial / logistics companies. For example, restricted EU market access may cause a drop in imports or exports, which will undoubtedly create problems.
Despite this uncertainty, the industrial sector shows no sign of tailing off entirely, and as such, prime industrial property is likely to command a good price. This is welcome news for those selling their premises.

Where to start searching?
Interest in London remains high, and probably will do so for the foreseeable future. For retail companies, the city offers a huge footfall, and for those looking for office space (such as tech firms) it's the best place to be situated.
However, the last couple of years have seen several businesses move to other parts of the UK. The Northern powerhouses, like Manchester and Liverpool, are attracting larger numbers of companies. The same is true for other cities, like Cambridge, Edinburgh, Bristol and Leeds. For those seeking good-sized commercial space at a more reasonable price, looking outside London is a sensible option.

Affordability will still be a factor
Naturally, in times of economic volatility, affordability becomes a major factor in property decision making. For example, tenants (when looking for commercial premises to let) will be searching for a property that matches their budget.
This is likely to continue to be the pattern in 2020, with tenants and buyers alike seeking out bargains. Flexible contracts are also becoming steadily more popular, as they demand less long-term commitment – again, something that appeals to people in uncertain times.
The future of overseas investment
At present, it's difficult to predict whether investment from abroad will continue to rise. Certainly, Asian investors have been making the most of the UK's weaker economy to purchase commercial property at a reduced price.
However, if the country's economy strengthens again, overseas investment may well drop off. Alternatively, if we leave the EU without a deal, we may see more companies choose to move to another country, in order to continue freely trading with other EU countries.

When's a good time to start searching?
Most experts agree that, while politics have caused some stagnation in the market, it's unlikely to get worse in 2020, and may indeed improve in some sectors. This means that, if you're looking to buy or sell commercial property, now could well be a good time to do it.
It seems like a decision will be reached regarding Brexit in the forthcoming year. This will break the cycle of uncertainty, and bring back some clarity and direction to the market. As for whether it's a no-deal, good deal, or complete backtrack on Brexit – who knows? Only time will tell, though it seems unlikely that any of the options will have a dramatic impact on the commercial property market.
Our advice? Proceed as normal – as it stands at present, there's no cause for panic, and the signs suggest that 2020 will be a good time to buy or sell your commercial premises.

References
Get In Touch for free property valuation
Contact us now to get a free valuation on your property. We will aim to reply in 24 hours