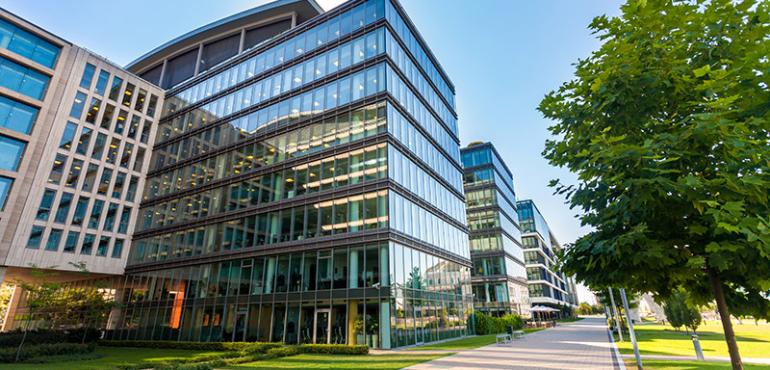 Like most legal documents, commercial property contracts are frequently full of technical terms and 'jargon', which can be confusing to read through.
In this helpful guide, you'll find out what some of the most commonly used terms mean, to help you get to grips with contracts and other legal documents in the future.
A Glossary of Commercial Property Terminology
Absolute compliance
A common term in commercial property contracts, absolute compliance means you must meet all requirements in the agreement, without exception. It's especially common to see the term used in break clauses – which means you must meet certain conditions if you want to bring a lease to a premature close.
Alterations
On lease contracts, it's common to see a clause about alterations, stipulating what you can and cannot change about the property. This might apply to a broad range of things, such as changing the electrics, altering the interior décor or putting up partition walls.
Break clause
It's standard to see break clauses in commercial leasing contracts. These are agreements between the landlord and the tenant, permitting either to bring the contract to an early close, usually in the form of written notice. This is particularly useful if you're ready to purchase a commercial property, and want to end your lease early.
Business rates
Business rates are the amount of tax payable on any commercial property, and are assessed on a rating list. To find out what your rateable value is, you'll need to contact the local authority and provide an address.
Change of use
Sometimes, you'll need to change the purpose of the premise – for example, converting the building from a retail space to a residential house. Sometimes, in order to do this, you'll need to get consent from the local authority; though there are some instances where you won't require permission (e.g. if you're changing a tailor's shop into a hairdressers, as both are classified as A1 Shops).
Covenant
Although it sounds like an obscure term, it's actually (quite simply) a promise or agreement. It refers to both the tenant and vendor's obligations, as laid out in the contract.
Demise
'Demised premise' means a place occupied by a tenant, under the agreed terms of the lease.
External valuer
Sometimes, it might be more appropriate to hire the services of an external valuer to value the property. This person will have no connection to any parties involved in the contract.
Forfeiture
If a tenant doesn't pay the rent on time, or breaks any other terms of the lease, this gives the landlord the right to forfeit. That means that they're legally allowed to bring the tenancy to a close, provided that they comply with section 146(1) of the Law of Property Act 1925.
Ground lease
The ground lease is given to the tenant at a ground rent, and involves an initial payment. The lease can run for anything from 30 to 999 years.
Internal repairing lease (IRL)
Under this lease, the landlord is held responsible for all external improvements and repairs, and all costs involved. The knock-on effect may be higher rental rates for tenants.
Landlord's consent.
If you want to change any aspect of the property, you might find you need permission first, which in legal terms, is called 'landlord's consent'. It usually takes the form of a written document.
Mediation
If you enter a dispute with your landlord, it's a wise idea to work with a mediator, who can help resolve the situation, without the need to take the matter to court. Usually, it's the cheaper, easier option.
Net yield
Net yield is an important term to know if you're planning on renting commercial property. It refers to the profits made from renting out premises, minus any expenditure incurred.
Prime investment
If a property is considered one of the very best in terms of condition or location, you might see it being referred to as a 'prime investment'.
Rent review
It's common for landlords to review rent rates every five years or so – usually against current market trends or the Retail Price Index.
Service charge
The service charge (paid by tenants) covers certain services provided by the landlord; such as necessary repairs, use of facilities, or even management.
Tenant's improvements
In contracts, you'll sometimes see 'tenant's improvements', which refer to changes that tenants can legally make at their own cost, without having to obtain landlord permission first.
Term
All contracts come with a term – which is the total amount of time the tenant has to rent out the property. There are different term lengths, ranging from short-term (six months or less), or long-term (over a year).
Use class
Every type of commercial property is assigned a use class, defining what it can be used for. The only exception to this are properties that are classified as sui generis (they don't fall into any specific category), like a nightclub or theatre.
Here's a list of the different use classes:
A1 Shops
Retailer's warehouses, shops, travel agencies, post offices, funeral directors, internet cafes, hairdressers, undertakers, ticket agencies, pet shops, showrooms and more.
A2 Financial and professional services
Banks, building societies, professional services. Note, this doesn't include payday loan shops or betting services.
A3 Restaurants and cafes
Restaurants, snack bars and cafes (anywhere that sells food or drink that's going to be consumed on the premises).
A4 Drinking establishments
Pubs, bars and any other places where drinking takes place (not nightclubs).
A5 Hot food takeaways
Any premises that sells hot food that's consumed off the premises.
B1 Business
Offices, product researchers / developers, light industry (in residential areas).
B2 General Industrial
Industrial processes not included in B1, but excluding chemical treatment, landfill, hazardous waste or incineration.
B8 Storage or distribution
Distribution warehouses, storage premises, and open-air storage.
C1 Hotels
Hotels, boarding houses, guest houses (excludes hostels).
C2 Residential Institutions
Residential care homes, nursing homes, hospitals, training centres, residential educational establishments and boarding schools.
C2A Secure Residential Institutions
Prisons, young offender's establishments, custody centres, short-term holding centres, detention centres, secure hospitals and more.
C3 Dwelling houses
C3(A) – any property used by a single person or family, an employer and domestic employees (e.g. a nanny or governess), a carer and the person being cared for, or a foster parent and foster child.
C3(B) – up to six people living in the same single household and receiving care (e.g. a housing scheme for people with mental health problems).
C3(C) – up to six people living in the same single household, who don't fall into the C4 definition, for example, small religious communities.
C4 Houses in Multiple Occupation
Houses being shared by between three and six unrelated people as their sole or main residence; who also share basic amenities – e.g. a bathroom or kitchen.
D1 Non-residential institutions
Health centres, day nurseries, schools, galleries, clinics, libraries, churches, law courts and more.
D2 Assembly and leisure
Cinemas, concert halls, music venues, bingo halls, swimming pools, sports centres and more.
Get In Touch for free property valuation
Contact us now to get a free valuation on your property. We will aim to reply in 24 hours