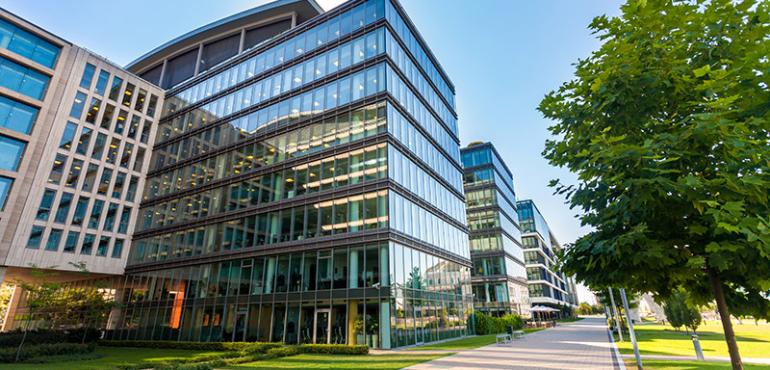 Raising capital for your business can be tricky. The traditional solution to the problem is asking the bank for a loan, but this isn't always an easy process, and there's no guarantee that they'll approve your request.
There is another option – sale and leaseback. If you're not sure what it is, or how it'll benefit your business, read on.
What's sale and leaseback?
The term 'sale and leaseback' means that you sell your commercial property, then lease it back from the purchaser straight away. By selling the premises, you'll free up plenty of capital, which can be used to fund your business growth. Importantly, you'll also still be operating from the same building, which means that your existing clientele won't be put off by any change of address.
It's also a good way of managing your monthly expenditure, as you'll know exactly how much you'll be spending each month on the lease.
Is it popular?
Sale and leaseback is becoming a hugely popular option with businesses. In 2019, 2.2 billion EUR worth of retail properties were sold then leased back in Europe. This totalled approximately 1.7 billion EUR of the entire retail investment volume, which is the highest it's been since 2007 (1).
39% of Europe's sale and leasebacks are carried out in the UK. This is the biggest percentage in the continent, and demonstrates how much of a viable option it is for businesses.
Make no mistake, it's not just SMEs that are benefitting from sale and leaseback. There have been some massive sale and leaseback deals completed recently, among retailers like Sainsburys, and the Casino supermarket group in France.
The advantages of raising capital for your company
Strategic growth is always beneficial for businesses. If you've got a solid plan in place, then having available funds in the bank means that you can put them into action.
However, we'd speculate that it's currently more advantageous than ever to have capital to grow. Here are just a few reasons why it's good to have funds in the bank:
- It can speed up daily operations. Nothing prevents efficiency and progression like lack of capital. Cash is required for the basics, like paying salaries, stocking up on inventory, paying invoices, or funding your marketing activities. If you haven't got the money to complete these payments swiftly, it results in dips in productivity, not to mention overall profits.
- You can invest in assets. Having money in the bank means that you can revolutionise your check-out system. You can update your website or improve its eCommerce functionality. You can invest in more effective advertising, or some new stock to tempt customers with. In short, it gives you so much more freedom, and the chance to really move your business forwards.
- It improves cash-flow. Cash-flow is always a concern for businesses. If your clients don't pay their invoices on time, this can result in a situation where you simply don't have money to pay the bills. Sale and leaseback ensures that you've got cash in the bank for these sorts of incidences, which immediately reduces your stress levels.
The issue with selling up and moving shop
When money is tight, business-owners often make the decision to relocate to a smaller commercial space. However, while this decision may make sense in the short-term (freeing up some money), it can be disastrous for your long-term prospects.
Cheaper premises are often in less desirable locations. As a retailer, for example, this is problematic. Your passing footfall may be reduced, or your existing customers might find it less convenient to reach you. This results in fewer sales over time, and reduced profits.
Additionally, the cheaper space might be smaller, or look dated. This can reflect badly on your business, particularly if your customers expect a certain standard of quality from you.
Staying put (and even refurbishing)
Sale and leaseback gives you the option to stay in your existing premises. Your customers will be none the wiser that you've sold the building, and as far as you're concerned, it'll simply be a case of 'business as usual'. It also means that you won't have to go through the upheaval of moving to another location.
Even better, the extra capital means you can refurbish your premises if you want to. This sends out a great message to your customers or clients; that you're in a position to invest in your business, and that you want to improve their experience in your shop or office.
Greater control of your funds
Few things are worse than feeling swamped by your finances. This is especially the case if you've got unpaid bills and invoices mounting up, and no available funds to pay them.
By selling your premises and arranging a leaseback, you'll be able to clear those pressing debts. You'll also know exactly how much you'll be paying in rent each month, which makes it a lot easier to budget effectively in the future.

The key advantages – a rundown
Every company is different, and as a result, the advantages will differ from business to business. However, here's a quick run-through of the main benefits of a sale and leaseback agreement.
- You retain control. Rather than driving your business into the ground and having to sell up entirely, you're in a situation where you're still in control of your premises. It's still your business – only now you have the opportunity to take it to the next level.
- There may be tax benefits. There's another distinct advantage to leasing your premises, rather than owning them outright – you should receive tax benefits for doing so. Your leasing costs are likely to be offset as they're regarded as an operating expense.
- You can update your operations. Lack of funds means no chance for your business to evolve. This means that it's stuck in the past, and unlikely to attract many customers. With capital, you'll be able to implement all the changes that you need to make; streamlining your daily practices, investing in up-to-date assets, and testing out new marketing strategies.
- It's a quick process. Unlike a standard commercial property sale, your buyer has the money and is ready to proceed. This means less uncertainty, reduced stress, and faster results – with the money in your bank account in hardly any time at all.
- It's discreet and easy. It's a private process, so there's no need to advertise your sale anywhere. Likewise, you don't have to go through the hassle of arranging viewings or marketing the property online, and of course, there are no estate agent fees involved either.
- A fair price. The buyer / leaser sees you as a long-term investment, as you'll be offering them regular payments (something that's always appealing to companies). As such, they'll be focused on offering you a fair and reasonable price for your commercial premises.
Is sale and leaseback the option for you?
Sale and leaseback is a great option for companies that already have a good customer base, but who are struggling to grow, due to lack of capital. If your business already has a track record for solid performance, then it makes sense to move it forward – as progression means more profits.
It's a good solution for most sectors; including retail, office and logistics / industrial. The additional money can be used to implement your long-term business plan, and it's a more appealing option than selling the premises and downsizing, which may feel like a step backwards.
To find out if it's right for you, talk to an expert in the field, who can tell you exactly how much capital you can expect to raise.
References
Get In Touch for free property valuation
Contact us now to get a free valuation on your property. We will aim to reply in 24 hours